Calories in Sausage
Sausage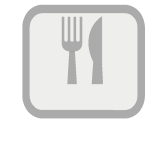 Sausage: Calories
---

Sausage, Blood
(1 slice, (5" x 4-5/8" x 1/16"))
90

Sausage, Italian, Pork
(1 link, 4/lb)
270

Sausage, Polish, Pork
(1 sausage (10" long x 1-1/4" dia))
740

Sausage, Pork, Cooked
(1 link (raw dimensions: 4" long x 7/8" dia), cooked)
50

Sausage, Pork and Beef
(1 link (raw dimensions: 4" long x 7/8" dia), cooked)
50

Sausage, Smoked Link, Pork and Beef
(1 link (4" long x 1-1/8" dia))
230

Sausage, Vienna, Beef and Pork
(1 sausage (7/8" dia x 2" long))
45
View Full Nutrition Label for Sausage

Sausage Nutrition Facts Label
Generate a detailed nutrition label for sausage. Simply follow the link above and select the specific food and serving size. Our food labels include over 30 nutrition facts including Fiber, Fat, Protien, Calories, Vitamins, and more.
Calories Values for Similar Foods

880

790

660

400

Pate, Chicken Liver
(10 ounces)
570

1400

650

Sausage, Pork and Beef
(10 ounces)
1120

Salami, Dry or Hard, Pork and Beef
(10 ounces)
1150

950

420

690

520

320

410

Hot Dogs, Pork, Turkey, and Beef
(10 ounces)
550
Tools
Sausage Nutrition Facts
Visit our
sausage food facts page
for more nutrient information for the food 'sausage' including minerals, fat, vitamins, carbohydrates, and other nutrition facts. On this page, you can create nutrient labels online for this or any food for a specified quantity. Use
RecipeBuilder
to calculate cumulative totals of nutrient facts for a list of ingredients.